VXP's Easy 3D Plus

Portable 3D presentations have never been easier and more affordable. You can now use a single projector (no stacking) and the inexpensive non-active polarized 3D glasses.
The Projector will send the image through a special lens. This will polarize the 2 images from the projector. This lens is placed a couple inches in front of the projector. With VXP's 3D Polarized Silver Movie Screen you are all set to go. Play Blu-ray 3D Movies, 3D from the internet and other sources,. We also have 2D to 3D conversion allowing you to watch almost anything in 3D - regular DVD movies, TV, Sports, live camera, and more.

You can now use Brighter Projectors for larger screens - The heat from the projectors can damge the image polarizer. This is solved by placing heat absorbing glass panels between the projector and the polarizer with a mini fan. You can have a projector with up to 7500 Lumens.

No Projector Stacking - Aligning and stacking projectors at portable movie events has always been difficult. Having to wait until it gets dark enough to align the projectors, and then if you are outdoors, you are dealing with uneven ground, wind and crowd issues that could move the screen or projectors easily putting the 2 images out of alignment. With VXP's Easy 3D Plus setup, you only use 1 projector and never have to worry about alignment.


---
---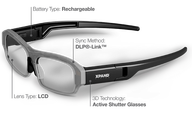 NO MORE Active Powered 3D Glasses - In the past you needed the active 3D Glasses. Because they can cost over $20 a pair, you have to deal with getting them back from everyone after the event. You also have to recharge them every week and deal with repairs and maintainance. Also as these glasses can have flicker problems which can be distracting. They were the only solution when they came out, but with new technology we can say goodbuy to the Active 3D Glasses.

---
| | |
| --- | --- |
| | Fun 3D glasses options with the Easy 3D Plus - Without needing the expensive active 3D glasses you have several options. The Paper glasses are inexpensive and disposable. You can also get them printed with colors, designs and your logos on them. There are also many styles to choose from including the black plastic ones you see in movie theates. The plastic and nicer styles can be cleaned and re-used. |
---
3D Technology and improvements over the years - For 3D you need to send a different image to each eye. In the past, this has been done with 2 stacked projectors. This is still the best solution for very large screens and for untra high resolution 3D with stacked 4k projectors.
The big change in technology came with the Movie Avatar in 2009. The new DLP 3D allowed powered 3D glasses to sync to the screen. You see 1 image in the right lens while the left lens is black and then other image in the left eye while the right eye is black. This happens very fast so you do not see the ficker very much. Recently these have improved greatly and are still a viable solution for home theaters. You do not need a Silver Screen either.

Over the years since Avatar came out along with this technology, we have had several changes that greatly improved 3D for portable movie theater entertainment. Projectors have come way down in cost and the quality is better than ever. Silver Movie Screen have Improvements too. VXP's HD 3D SilverBright Movie Screens are made for this 3D technology. They are 2.8 gain, polarized, and provide an amazing image. And like the projectors, they are much less expensive than the Silver Screens of just a few years ago. Finally, The stand alone Image Polarizer allows the Active powered 3D Glasses to be removed. The Polarizer syncs to the projector and shows the 2 images on the screen. Each eye only sees 1 image with the 3D polarized glasses on.

---
10ft Easy 3D Plus Package
$6995


16ft Easy 3D Plus Package
$8995





20ft Easy 3D Plus Package
$12,995