The Vision Experience Complete Portable and Instant
Holiday Movie and Entertainment Theater
It's not too late. You can still have a spectacular and unique holiday display for your special event space. If you are looking for an amazing holiday atmosphere one evening for a private party or for the entire holiday season, VXP has exactly what you're looking for. Our Holiday Movie and Entertainment Theater is perfect fo your mall, hotel, or other large space. Indoors or out, our portable holiday theater can be set up with as little as a day or two notice.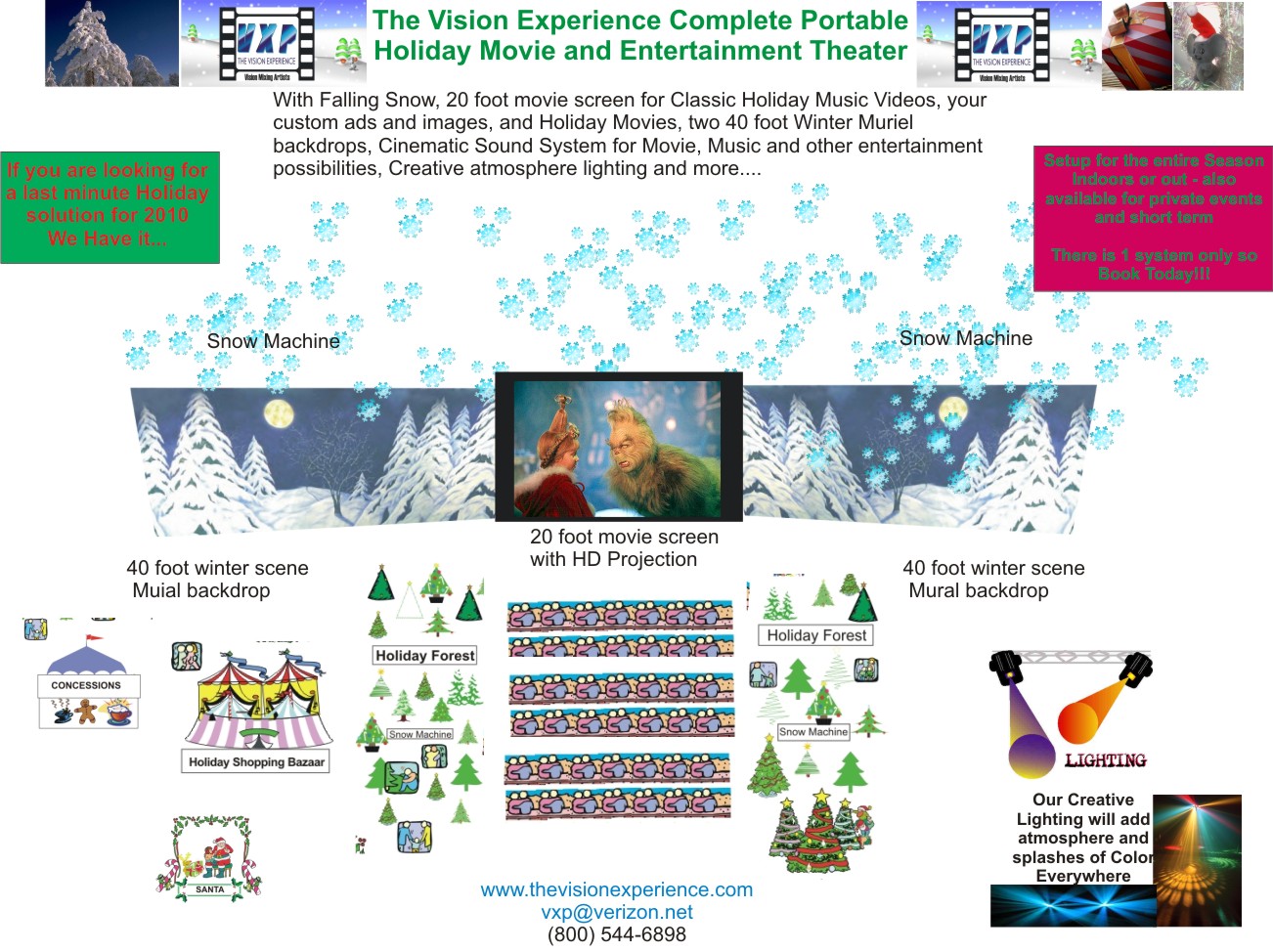 The Holiday Movie and Entertainment Theater
The centerpiece of your holiday space is our 20 Foot movie screen. With high definition projection and an amazing cinematic sound system, you will be able to show classic holiday music videos, movies, your own private images, and anything else you desire. On each side of our movie screen is a 40 Foot long hand painted winter scene mural. As you look up...it's snowing. We will provide the same type of snow machines that are used in Disneyland. Our creative lighting will provide splashes of color and atmosphere everywhere.
Depending on your space and use, the holiday entertainment theater can be customized quite a bit. One popular design is our Holiday Forest. With a collection of Christmas trees, preople can be seated amongst them. You could also add your kiosks, your Santa Claus, and additional holiday shopping vendors. Concessions and other items your business would be interested in selling and promoting, can all be brought into the design of the Holiday Entertainment Theater.
VXP has one Entertainment Theater available. Call us for more information and we can go over options and ideas to customize the theater for you and your space. Booking is on a first come first serve basis as we expect to have ther theater permanently booked in one location, through December.
To book your Holiday Theater contact The Vision Experience today.
Happy Holidays!
Michael Vosse
1.800.544.6898